COVID-19 Utility-Telecom Updates
One inquiry that we have received quite often at UB is "What are the latest COVID-19 Utility-Telecom Updates?". Our response has been two-fold. One, Utility Bellhop has assisted over 10k customers since COVID-19 began. Therefore, we seamlessly make sure that you have nothing to worry about w/ all utilities/telecom. Let UB setup your utilities today – get started here! Our responses are also laden w/ direct facts as they have been communicated to us by The National Association of Regulatory Utility Commissioners (NARUC – naruc.org). Each state has its own specific response and action plan. All consumers can visit the following link (NARUC State Response Tracker) to view COVID-19 Utility Updates for each state. Please Note: The above resource specifically pertains to Electricity, Water, & Natural Gas COVID-19 updates. All other COVID-19 Utility-Telecom Updates are included below, as well!
---
Response From State Regulators
The chart below is a screengrab directly from the link provided showing the response for each state. The great news for consumers is that most states have enacted a 'Utility Disconnection Ban'. This simply means that Regulators for certain states have banned Utility companies from carrying out disconnections. For the sake of being as informative as possible, 'Utility' in this context means Electricity, Water, and Natural Gas. TV, Internet, and Home Security accounts are governed by separate agencies. We constantly monitor all COVID-19 Utility-Telecom Updates multiple times per day. More on those services below.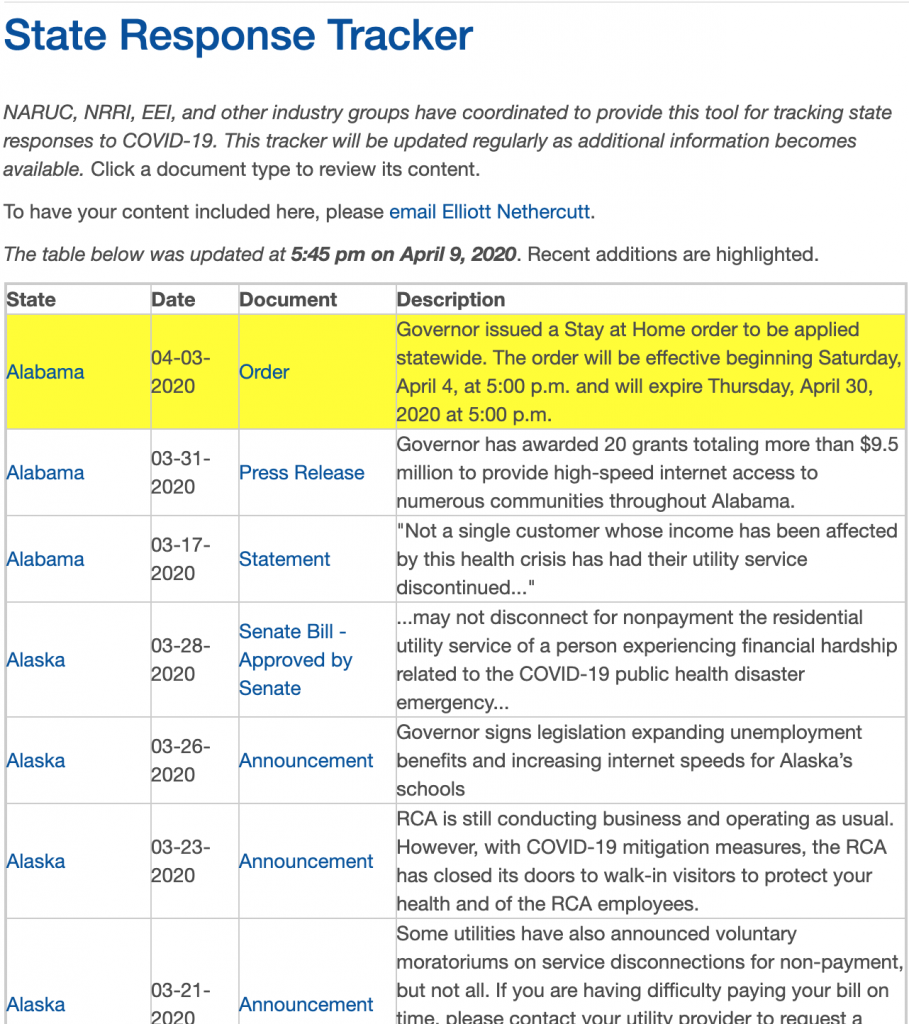 ---
Response from the FCC re: Internet Disconnections
On March 13th, 2020, the FCC reached a comprehensive agreement with all major Internet Service Providers to "Keep America Connected". Under this agreement, the ISP's are granting a 60-Day Grace Period for any of their customers that have been economically impacted by COVID-19. This means that your internet service will stay connected during the grace period even if you are unable to make your monthly payment. Additionally, all late fees will be waived during that timeframe, as well. Reuters published a great explanation of the entire plan, which you can access here.
---
What about NEW Utility/Telecom Connections?
With all of the confusion stemming from COVID-19, trying to connect all of your utilities on your own is going to become quite frustrating. This is due to providers having different protocols in place for NEW accounts. Here's the great news – you don't have to worry one bit about navigating any of this! How? Utility Bellhop receives daily updates from every provider in the US regarding any changes to the connection of new accounts. All major TV/Internet providers are now offering Self-Install kits to their customers upon request. This means your TV/Internet service will be connected no matter what. Below, we have outlined the current status of new connections for each service that we provide.
---
COVID-19 Utility/Telecom Updates Outline
Electricity: All new electricity accounts are being processed per normal protocols and in most cases, Utility Bellhop will be able to connect your Electricity whenever you request! Even same-day requests will be fulfilled!
Water: Each Municipality/Water Provider has their own specific protocol, but we are still able to connect new water accounts. Several Water Providers have urged customers to submit their new connection request no more than 5 days prior to the requested start date when/if possible.
Natural Gas: Several Natural Gas Providers have suspended the connection of new accounts. However, as long as your new home/apt had active gas service as of February 26th, 2020, then your service will remain on at your new home/apt regardless. Utility Bellhop will keep your Natural Gas order open until new connections become available, at which time we will subsequently complete your new account setup on your behalf.
TV/Internet: All TV Providers are still providing installation to their customers. The only caveat is that they will contact the customer via phone when on their way to the install and will ask "Do any members of your household show ANY symptoms of COVID-19?". In the event that the answer is 'Yes', your installer will still complete the outside portion of your install and then leave a box w/ all equipment at your front door. Included in the box are self-install instructions, which will literally only take you 5-10 minutes to complete the installation of your cables boxes, routers, gateways, etc.
Home Security: All Home Security installs are being completed with no delays. However, similar to TV/Internet, your installer will call prior to his arrival to assess the situation. If there have been any symptoms, then your tech will inform you that UB will call to reschedule. This is simply done out of an abundance of caution for everyone.
---
Should you have any further questions and/or if you're ready to save time & money on the utility connections for your new/existing home/apt, then please don't hesitate to reach out anytime, as we are more than happy to help!